CUSTOM BULK BAGS
InterBULK USA, LLC. is a well-known designer of custom Flexible Intermediate Bulk Containers (FIBCs) also known as bulk bags or super sacks. We are a supplier of choice to a broad range of North American clients from across industries. InterBULK bags are excellent for dry, granular, flowable material and are uncompromising in strength and durability during shipping, handling, and storage.
Read More
InterBULK also provides specialty food-grade (clean) bags made from 100% virgin polypropylene and polyethylene fabric. Clean bags are manufactured in food-grade AIB (American Institute of Baking) facilities with magnetic detection vacuums to ensure zero contaminant bags. Food-grade containers are constructed as circular woven bags--streamlined with no corner seams.
Custom InterBULK bags maximize storage space, eliminate spillage and improve product flow control. Circular woven and U-panel bag styles are available with both tube and form-fit liners.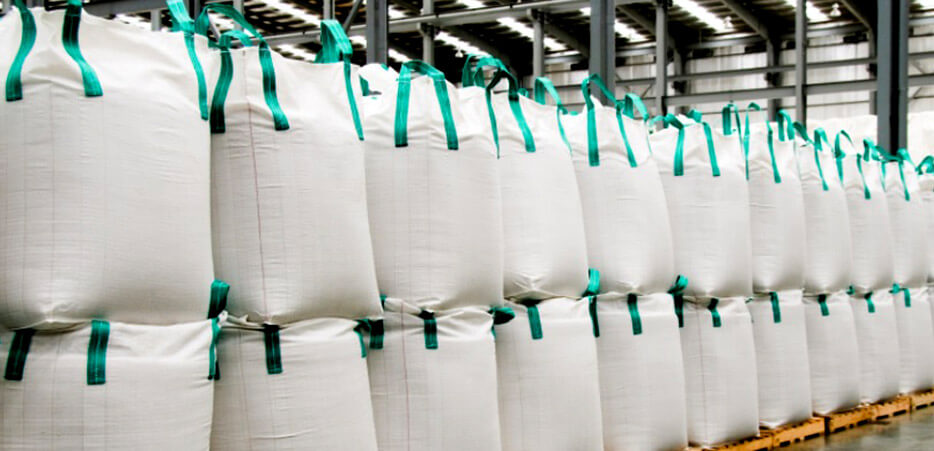 Bulk Bag Specifications
Product Name

Custom Bulk Bags
Flexible Intermediate Bulk Containers (FIBC)
Clean Bags (Food Grade)

Electrostatic Bags (Type D)
Conductive / Groundable (Type C)
Function

Shipping
Handling
Storage Containers
Media

Dry
Granular
Flowable
Advantages

Maximize Storage Space
Eliminate Spillage
Improve Flow Control
Bag Styles

Circular Woven
U-Panel
Lifting Loop Styles

Cross Corner
Side Seam
Single

Double
Chain
Liners

Tube
Form Fit
Options

Baffles
B-Locks

Wear Sleeves
Dust Proof Seams
Top Openings

Spout
Duffle
Open
Bottom Openings

Plain
Spout
Remote Discharge

Portal (with or without Damper)
Conical Discharge
Bottom Closures

Pajama Cover
Pedal Cover
Identification Options

Letter Stenciling
Logo & Artwork Silk Screening

Tyvek Labels
Zip Lock Document Pouches
Printing

4 Sides
3 Colors
Biaxially Oriented Polypropylene (BOPP) Film
Bag Material

Flexible Woven Polypropylene (PP)
Loop Material

High Tenacity Polypropylene (PP)
Liner Material

Polyethylene (PE)
Resin Inhibitor

UV Treated
Coating

Heat-Bonded Polypropylene (PP) Film Lamination
Fabric Weight

3 to 9 oz.
50 to 290 gsm
Safe Working Load (SWL)

500 to 4,500 lb.
Diameter

35 to 40 in
Length

18 to 40 in
Width

18 to 48 in
Height

28 to 80 in
Liner Thickness

2 to 6 mil
Testing

Top Lift (6x)
Stacking
Drop

Topple
Tear
Testing Facilities

TEN-E Packaging
Advanced Packaging Solutions
Additional Products / Services

Local Manufacturing
Warehousing
Production Volume

3 to Large Volume
Lead Time

3 to 7 days
Next Day Delivery Available
Just In Time (JIT) Shipments
Additional Information
Industry Standards

ISO 9001
ISO 9002
Canadian Food Inspection Agency (CFIA)
Safe Working Load (SWL)
United Nations (UN) Certified Packaging
American Institute of Baking (AIB) Certification
Hazard Analysis & Critical Control Points (HACCP)
Good Manufacturing Practices (GMP)
File Formats

CAD Capabilities
Industry Focus

Bulk Densities of common materials packaged in bulk bags. View bulk densities web page or PDF version - 120KB.
Featured Packaging Solutions